IVF Success Rates with 5 Day Blastocyst Transfers at the Advanced Fertility Center of Chicago
IVF success rates with blastocyst transfer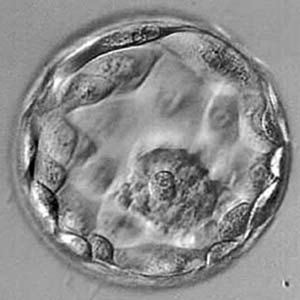 High quality day 5 blastocyst stage IVF embryo
Blastocyst grading
5 day blastocyst transfer success rates are potentially confusing
Almost all clinics that do extended embryo culture and blastocyst transfer IVF are selective in choosing patients eligible for it.
Patients selected for blastocyst transfer tend to be younger and have more embryos that look better under the microscope (better embryo "quality")
Therefore, we should expect success rates to be higher in this selected population as compared to the rates in "unselected" patients.
Learn about the number of eggs retrieved and IVF success
Here are our live birth success rates for day 5 blastocyst transfer cases:
We have done blastocyst culture and transfer since 1998. We see significantly higher blastocyst implantation and pregnancy rates as compared to what we see with day 3 embryos.
Below are in vitro fertilization live birth success rates at our fertility clinic with fresh embryos according to the day of the embryo transfer procedure and female age.

January 1, 2013 to December 31, 2016
Advanced Fertility Center of Chicago
Live birth rates per fresh transfer procedure
Day 3 "cleavage stage" transfers vs. day 5 "blastocyst" transfers
This data represents 1490 IVF fresh embryo transfer procedures
Female Age Under 35

Transfer
Day


Number of
Embryo Transfers

Clinical Pregnancy Rate
Per Embryo Transfer
(Sac in uterus on ultrasound)

Live Birth Rate
Per Embryo Transfer

Day 3

41

Day 5

174
Female Age 35-37

Transfer
Day

Number of
Embryo Transfers

Clinical Pregnancy Rate
Per Embryo Transfer
(Sac in uterus on ultrasound)

Live Birth Rate
Per Embryo Transfer

Day 3

34

Day 5

89
Female Age 38-40

Transfer
Day

Number of
Embryo Transfers

Clinical Pregnancy Rate
Per Embryo Transfer
(Sac in uterus on ultrasound)

Live Birth Rate
Per Embryo Transfer

Day 3

51

Day 5

63
Female Age 41-42

Transfer
Day

Number of
Embryo Transfers

Clinical Pregnancy Rate
Per Embryo Transfer
(Sac in uterus on ultrasound)

Live Birth Rate
Per Embryo Transfer

Day 3

39

Day 5

22